Articles & News about Furnishings
Three Companies That Upcycle!

2013-05-21
Yesterday was Earth Day, and while we are busy at the High Point Furniture Market, I wanted to take a few moments to show off some fun pieces that are great examples of upcycling! Upcycling is taking something that you would otherwise throw out and finding a way to make it into something else.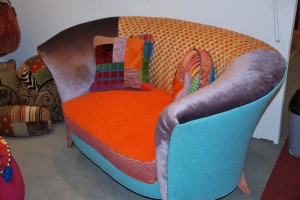 I love to see furniture manufacturers re-use waste materials to make something beautiful! Here at market, I came across a beautiful, colorful sofa by Salmagundi. Using discarded fabric samples and scraps, salvaged furniture pieces become one-of-a-kind creations. In addition to the sofa, I saw a traditional chair frame with a rainbow of patchwork, as well as some fun ottomans that looked like kaleidoscope tortoise backs! Creative, fun and eco-friendly.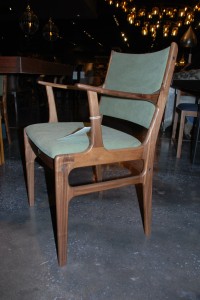 Four Hands created an eco-conscious collection of furniture using reclaimed South American hardwoods, and a chair we saw at market is upholstered with leftover tent fabric from the Korean War! They've used reclaimed teak, elm and mango, as well as recycled aluminum in some of their other pieces. Some of their collections use certified 100% recycled wood (certified by the Forest Stewardship Council.) It's great to see a company with high social and ecological priorities!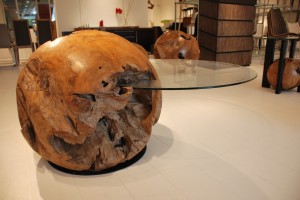 Another company that inspired us on Earth Day is Woodbrooke. Their collection of tables is gorgeous, their designers having used a variety of woods in odd shapes, sizes, and styles, including a teak orb coffee table that I love! It has an earthy feel to it and brings nature into the home. The odd shape of it may have been considered a discarded piece of wood by any other company, but Woodbrooke masterfully created a table that blends function with design.
Every day should be Earth Day, and there are a growing number of furniture manufacturers who are catching on. These are just a few of the companies that we saw that have worked upcycling into their core values!